Sometimes it's not uncommon to change IT systems. Probably because functions can't be upgraded again, the system environment needs to be coordinated, or the manufacturer has updated that no longer meets your needs. In all these cases, old data needs to be transmitted and sometimes converted into new systems that can be used.
Honlitech works closely with XPLM and Elysium to ensure effective migration to new systems. The core of this operation is the conversion of CAD data and the migration of metadata and documents from the old PLM system to the new PLM system.
One of the most common migration problems is found in the best conversion of CAD files, because it relies on using old, high-quality data sources, which that are not always available.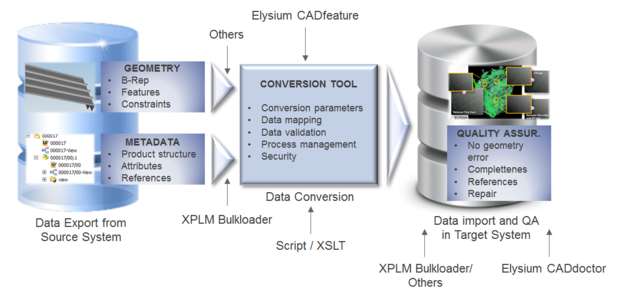 In order to minimize the manual work required in the migration project and effectively manage the migration cost, it is necessary to build a tool chain.
First, geometry and metadata are automatically exported to the source system (CAD or PLM). After that, data is transformed, including parameter conversion, data mapping, data validation, and target management of transformation process and security measures. Finally, a new PLM system is imported to ensure the quality of data and to repair the model and metadata. Various tools are used to complete this process.
Tools required for data migration services:
1、Geometric Data Converter
2、Metadata Converter
3、Product Data Analyzer
4、Data export/import
5、Quality management
6、Data authentication